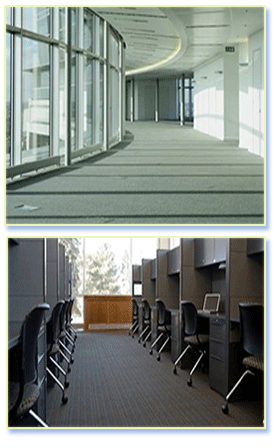 Call Us Today!!
Decorator's Carpet Care, Inc.
904-215-9288
1335 Kingsley Ave #1688
Orange Park, FL, 32067
Why Choose a Specialist?
You've seen the services we offer, and you've gotten a feel for our business ethic and commitment to our clients. Hopefully, you see how the services Decorator's Carpet Care offers could be beneficial to your facility. And yet, there's still that little thought in the back of your mind . . .

"But I have a janitorial service. Aren't they supposed to keep my carpets looking great?"

Of course you have a janitorial service. And hopefully they do a great job of daily office cleaning, vacuuming, dusting, mopping, cleaning the restrooms, and taking out the trash. Unfortunately, your typical night cleaning staffer is neither trained nor inclined to perform proper carpet or upholstery maintenance. These hard working folks have barely enough time to accomplish their normal routine.

Actually, when you call your janitorial company with your concerns about the steadily declining appearance of your carpet, they are likely to call in a low-budget subcontractor to attempt to correct their neglect. Your facility deserves better! And so do you.

Let the professionals at Decorator's Carpet Care be the specialists you use to make your facility look its very best. Our focus for twenty-nine years has been commercial carpet cleaning and maintenance, office furniture cleaning and sanitizing, and ceramic tile and grout service. That's all we do, and it's why we're the best. Call us today for your free, no-obligation inspection, and see what we can do for you!